Treatment for
Erectile Dysfunction
---
In addition to TRT (if necessary), a range of medications may be used to treat erectile dysfunction. Depending on the cause of ED, PDE5 inhibitors such as Viagra and Cialis are usually the medications of choice since they are easy to take and very effective.
PDE5 Inhibitors (Pill-Form)
Viagra and Cialis are non-habit forming medications and their effects have a rapid onset, usually lasting up to 4 hours and 36 hours, respectively. As such, Cialis may be thought of as "long-acting" Viagra.
A second generation PDE5 inhibitor known as avanafil (Stendra) may be used if either Cialis and Viagra are not well-tolerated. Stendra has an even quicker onset of action than Cialis and Viagra, reaching maximum concentration within roughly 30 minutes of ingestion; its effects last roughly 2 hours.
Some men may experience nausea, headaches, or blurred vision after taking a PDE5 inhibitor, but these symptoms generally subside shortly after the drug wears off. However, if one of the PDE5 medications produces side effects, it's prudent to try a different option since they have distinct selectivity for PDE enzymes throughout the body. Some men tolerate Cialis better than Viagra and Stendra and vice versa.
Viagra and Cialis are non-habit forming medications and their effects have a rapid onset, usually lasting up to 4 hours and 36 hours, respectively.
Injectable ED Medications
If oral PDE5 inhibitors don't help with erectile dysfunction, injectable medications such as P-shot and Trimix may be prescribed. These medications are self-administered by injection into the intracavernosal space of the penis, thereby bypassing the gastrointestinal tract and rapidly producing an erection.
---
Trimix for Erectile Dysfunction
Trimix contains three different compounds, papaverine, phentolamine and alprostadil, that help expand and relax the blood vessels in the penis. It is premixed and must be kept cool to maintain potency.
Advantages of injectable ED medication is that they don't readily interact with alcohol, food, and other medications like PDE5 inhibitors may. Injectable ED medications also are considered safe for men who suffer from cardiovascular issues and diabetes.
---
P-Shot® for Treating Erectile Dysfunction
Another injectable option for erectile dysfunction is the Priapus Shot® (P-Shot®). This one-time procedure involves several injections of platelet-rich plasma (PRP) into the penis in order to stimulate new tissue growth and promote stronger erections. The P-Shot® is said to be synergistic with TRT and reportedly increases sexual stamina. The procedure is virtually painless under anesthesia and takes less than 30 minutes. Results may be noticeable immediately in some patients, but can take up to three months for maximum benefit.
As always, consulting with a licensed physician that specializes in men's health is imperative for determining which Erectile Dysfunction treatment is best for you and your specific needs.
Why GameDay Men's Health
is the right choice for Erectile Dysfunction treatment
---
Knowledgeable Staff
All of our staff at GameDay Men's Health have received extensive training in their individual capacities to make sure every patient gets the highest standard of care, all of the time, every time.
Holistic Approach
Many of our competitors who offer a similar treatment to the GainsWave, only offer that. At GameDay we take a holistic approach to your Erectile Dysfunction and health. With our state-of-the-art on-site labs we are able to offer same day testosterone testing. We also perform a diagnostic exam to determine the causative factor for your ED, instead of just guessing like many other providers do. Looking at the big picture is always a better approach to healthcare.
Innovative Treatment Protocols
Our team is constantly reviewing new studies, tests and literature to ensure that our proprietary treatment protocol stays in-line with the latest scientifically validated information available to us. Our high success rate has changed the lives of many men who thought sex would no longer be possible for them.
How Does
TRT Work for Erectile Dysfunction?
---
Men who suffer from ED rarely suspect that low testosterone could be the culprit. While Viagra and Cialis are unequivocally effective for treating erectile dysfunction, they won't correct low T. Having healthy testosterone levels is an integral component of long-term health, wellness, and sexual function.
TRT is simply meant to "replace" testosterone to a normal, healthy range under the guidance of a licensed physician. GameDay Men's Health uses only bioidentical testosterone, which is much safer since it is the same as the natural testosterone produced by the body.
In healthy, TRT doses of testosterone, the side effects are much more manageable than the side effects people often experience when using testosterone for illicit purposes (i.e. for "performance-enhancement"). Hence, TRT is not the same as using testosterone for athletic performance enhancement.
Remember, testosterone is a natural hormone and necessary for all humans. When a man's body doesn't produce enough of it, his health and quality of life will slowly deteriorate.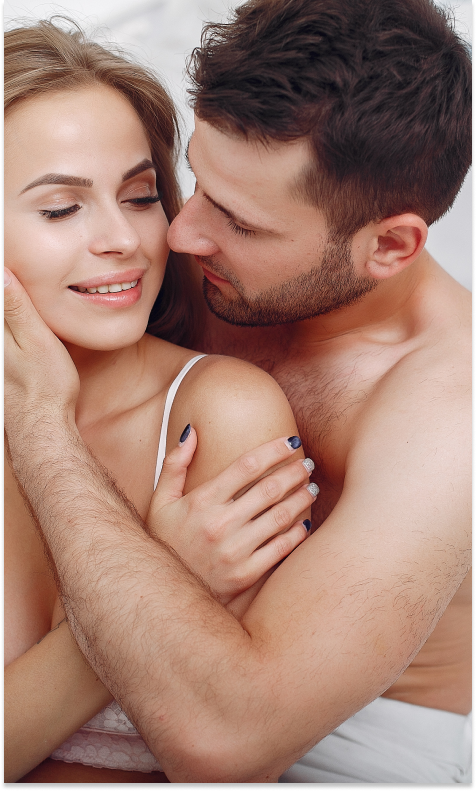 TRT is simply meant to "replace" testosterone to a normal, healthy range under the guidance of a licensed physician.
Is TRT Safe for
Erectile Dysfunction
---
Here are some of the most common questions and concerns we receive from prospective TRT candidates with erectile dysfunction:
Will TRT harm increase my risk of cardiovascular complications?

Will testosterone make me more aggressive and moody?

Will taking testosterone cause the prostate gland to hypertrophy?
The reality is that many of the purported risks of TRT, such as an increased risk of prostate cancer and cardiovascular disease, are based on results from poorly designed studies and flawed clinical trials.
In fact, several studies suggest that TRT is actually beneficial for cardiovascular function and metabolic health, which thereby promotes better erectile quality.(9,10) Likewise, men with low T are the ones that have a greater risk of prostate issues than men with normal T levels. (11)
What many people don't know is that the amount of testosterone used for "performance enhancement" is drastically more than a proper TRT dose. A normal weekly dose of testosterone on TRT is anywhere from 100-200 mg.
Side Effects of TRT for
Erectile Dysfunction
---
There are a few side effects of TRT that some men with ED may experience, such as night sweating, oily skin, and acne (particularly on the shoulders or upper back). Thankfully, these side effects are easy to manage, if not avoid, by monitoring blood levels of various biomarkers and adjusting the TRT dose accordingly.
Any initial side effects of TRT generally subside after the body acclimates to having a normal, healthy level of testosterone again.
ED San Diego Treatment
---
As part of our ED San Diego Treatment, GameDay Men's Health will ensure you get the best results possible while controlling any side effects.
PDE5 inhibitors like Viagra, Cialis, and Stendra are well-tolerated by most men and produce beneficial actions on erectile function quickly. For men with low T, these medications serve as great adjuncts to TRT for treating erectile dysfunction. Injectable medications, like the P-Shot and Trimix, are also safe and effective options when PDE5 inhibitors don't produce the desired results.
If you're experiencing ED or any other symptoms of low T, don't hesitate to schedule a complimentary consultation with one of our hormone specialists by
CLICKING HERE
or calling us at
858-252-9202
We've helped countless men regain their confidence and sexual vitality.