Please Complete the Form to Identify Eligibility for Erectile Dysfunction or
Gainswave Treatment in Long Beach

and Potential Discounts
WHAT IS GAINSWAVE®?
Many men suffer from problems such as erectile dysfunction (ED), unsatisfactory sexual performance, and Peyronie's disease, which are all treatable and preventable. GAINSWave® is a shockwave therapy procedure that aids in the treatment of several conditions by increasing blood flow throughout the body. As a result, enhanced sensitivity, erection spontaeniety and improved sexual performance are achieved.
With GAINSWave®, there is no need for medications, injections, or surgical procedures to be performed. You will not experience any downtime because it is a non-invasive, completely natural procedure.
HOW


DOES IT WORK?

GAINSWave® uses shockwave with high-frequency and low-intensity to increase blood flow. As men grow older, it is relatively common for their blood flow to become less adequate, leading in the thinning out of the blood vessels and a reduction in their level of penile sensitivity. Using shockwaves to remove microplaques from the body and increasing the blood flow, as well as promote the formation of new blood vessels in the body, can be extremely beneficial for their sexual capabilities.

Most men will require multiple sessions, each lasting approximately 20 minutes, before they begin to enjoy the benefits of harder, longer-lasting erections. Six (6) to twelve (12) sessions would be the average number of sessions that would be needed to maximize the full benefits of the treatment. GAINSWave® has a 75% success rate, making it an excellent solution for men who want to ramp up their sexual performance.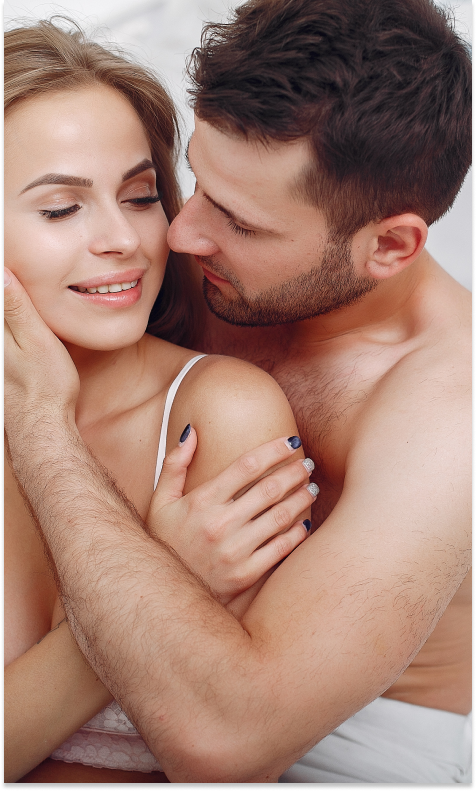 TREATMENT FOR ERECTILE DYSFUNCTION
It is asserted that erectile dysfunction is caused by insufficient blood flow to the penile area. By using GAINSWave® shockwave therapy, you can facilitate the creation of new blood vessels in your body, which is likely to result in long-lasting erections that would not be dependent on medication.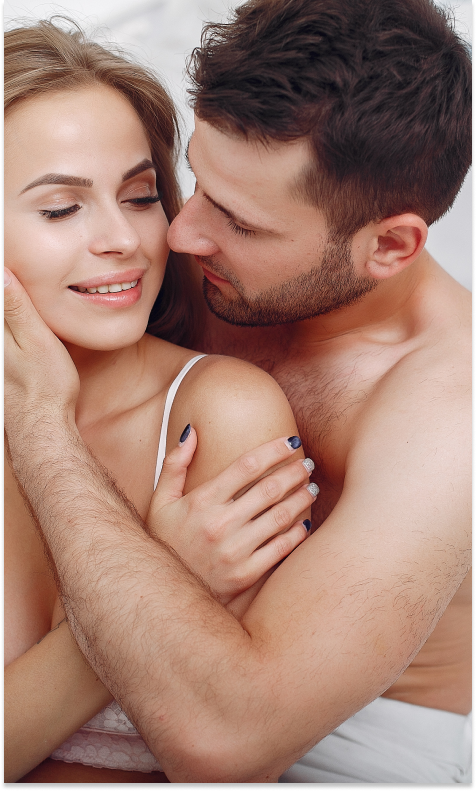 TREATMENT FOR SEXUAL ENHANCEMENT
It is asserted that erectile dysfunction is caused by insufficient blood flow to the penile area. By using GAINSWave® shockwave therapy, you can facilitate the creation of new blood vessels in your body, which is likely to result in long-lasting erections that would not be dependent on medication.
TREATMENT FOR PEYRONIE'S DISEASE
In people with Peyronie's Disease, a fibrous scar tissue is being detected in the penis, this restricts the elasticity of the penis and the ability to perform sexual activities. Also, b ecause of this, there is a bend in the penis, and it is difficult to execute sexual functions. In a natural way, the GAINSWave® shockwaves breakdown the scar tissue, allowing for the growth of new blood vessels and the stimulation of blood flow. As a result, the penis is able to take on its natural shape, resulting in significant improvements that could be observed during sexual activities.
BENEFITS OF
GAINSWAVE®
GAINSWave® brings a lot of benefits, including the following:
Increased spontaneity
Heightened penile sensitivity
Increased confidence
Improved sexual performance
Harder, longer-lasting erections
Effective treatment for males with peyronie's disease (breaks up scar tissue)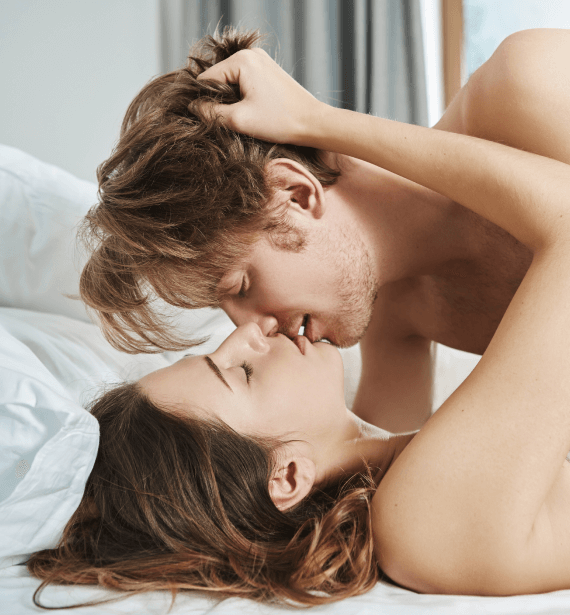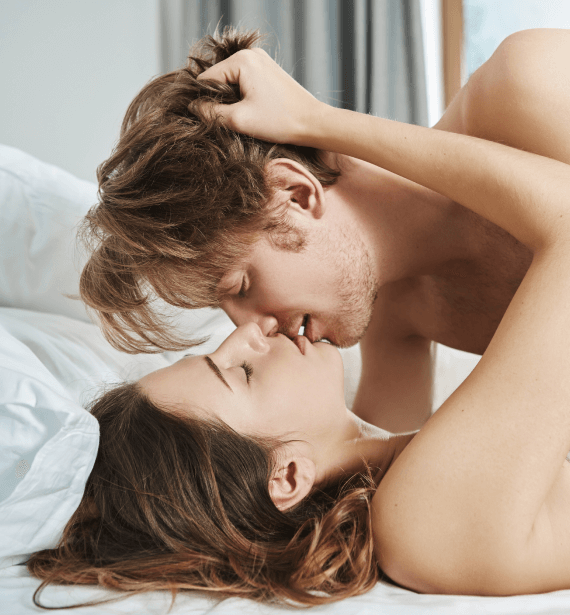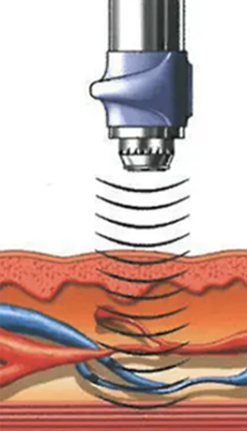 DURING YOUR GAINSWAVE® TREATMENT
In order to make the treatment more comfortable, the specialist will put a numbing chemical into the soft tissue of the genitals prior to doing the procedure. With the involvement of a specialized instrument, shockwave therapy will be administered to the affected area, that will contribute in the regeneration of existent blood vessels and also the breakdown of plaque. Cleaning the penis, like cleaning your pipes, is a necessary step in ensuring a steady supply of blood flow throughout your body. As a result of this treatment, there is an increase in blood flow to the penis, which ultimately leads to achieving improved sexual performance.
AFTER YOUR GAINSWAVE® TREATMENT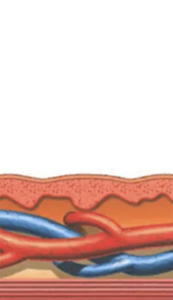 The treatment is performed as an outpatient procedure, which allows a man who has just completed the procedure to drive himself home. The absence of downtime means that patients can go back to work and their normal activities immediately after the procedure. The vast majority of men will experience a spontaneous erection within 24 hours of receiving the treatment.
PRICING :
Call or text your Client Success Coordinator at any time to discuss planning an option that best suits within your budget limitations. 
GAINSWAVE® PUTS YOU BACK IN THE GAME
Even if you are not battling erectile dysfunction (ED), Peyronie's disease, or if you just simply want to improve your overall sexual performance, you may be a good candidate for a GAINSWave® therapy.
FREQUENTLY ASKED QUESTIONS
What is the expected duration of time for the treatment's favorable effects to be fully effective?
When you have GAINSWave® treatment, the benefits that you receive last for an average of 2 to 3 years after the treatment has been completed.
Is treatment just available to males who have erectile dysfunction or other sexual dysfunction?
The answer to this is a categorical no. Any man who wants to improve his sexual performance drastically qualifies as a potential candidate for this treatment. In order to benefit from this natural and successful treatment, patients do not have to have erectile dysfunction or Peyronie's disease.
Is it true that shockwave therapy was only recently found as a potential treatment option?
No. Using shockwave therapy has been proven to be effective in Europe for more than a decade, with outstanding outcomes. The popularity of this procedure has recently increased in the United States as a result of its efficacy and success in treating various conditions. This has provided adequate time for thorough research and client trials, and although there is still more to learn, we are confident in the results and effects that this treatment program will give for males that we are willing to put undergo with the treatment.
How does GAINSWave® treatment compare to other treatment options? What are the advantages of GAINSWave® treatment?
GAINSWave® is non-invasive, and there are no drugs, injections, or surgical procedures required with this method. In addition to providing instant comfort, the procedure has the added benefit of providing long-term benefits by increasing blood flow to the penis. Stronger, long-lasting erections, an increase in penile sensation, and improved sexual performance that is more intense and lasts for a longer amount of time are the results.
What is the true cost of obtaining GAINSWave® therapy?
It is difficult to estimate the cost of treatment without first meeting with a professional because GameDay Men's Health customizes each therapy that we deliver to the particular client in order to ensure that the patient achieves the greatest outcomes.
In what way does GAINSWave® work, and for how long does it last?
Even though the effects of GAINSWave® are only momentary, they can continue for up to three years in most cases. After experiencing an improvement in their sexual performance, most men schedule follow-up sessions to ensure that the improvement continues naturally. Keeping track of your therapy and letting the Gameday staff of any noteworthy changes in your sexual performance will allow us to aid you in remaining on top of your game.
What is the GAINSWave® method of action?
As part of the GainsWave procedure, non-invasive acoustic shockwave therapy is used to treat and disintegrate micro-plaque formation within the penis, leading to increased growth of the blood vessel and tissues of the penis. With the high frequency and low intensity of the shockwaves utilized, regulated and effective effects can be attained that can continue for years after your treatment has been completed.
Can I put my trust in the confidentiality of your clinic?
Our personnel are fully aware of the gravity of the condition our patients are in. With our scheduling, we aim to get you in and out of the clinic in a timely manner while ensuring your privacy and anonymity. We are also required to follow HIPAA regulations due to the fact that we are a medical clinic, which ensures that our client's information is kept confidential.
What is ShockWave Therapy method and how does it work?
It is a completely non-invasive pressure wave treatment that is completely painless. Stem cells, white blood cells, and cofactors are used to remove any undesired plaque buildup in the penile arteries, thereby increasing the general functionality of such arteries and opening up new channels for ample blood flow.
In order to determine whether or not I am a good candidate for the therapy, what is the most effective method?
Make an appointment with one of our medical specialists as soon as possible as the first step. In order to determine whether or not you are a candidate for shockwave therapy, your current state will be reviewed, and you will be subjected to a number of basic tests to determine your eligibility.
How many treatment sessions will I be required to go through?
In the majority of situations, treatment sessions are determined by the practitioner with whom you have talked with during your consultation. Several aspects, including your medical history, the amount of time you have been suffering from ED, and also other circumstances that contribute to your ED, are taken into consideration. The number of the treatment sessions will vary depending on the individual, with each session lasting roughly 20 minutes in length on average. You have a choice of three different sites where you can have this procedure completed.
Is Shockwave Therapy a therapy option that is risk-free?
Yes! It was created in Europe, where it is currently used as the first-line treatment for erectile dysfunction. This FDA-approved technology was developed in Europe. For years, it has been widely used in the medical community in the United States to treat soft-tissue injuries and enhance blood circulation. It is now being promoted as a viable treatment option for erectile dysfunction. In addition, it is non-invasive in that it does not require the use of needles, medications, or surgical procedures. Furthermore, there is no downtime and no discomfort associated with it.
What are some of the expected benefits?
Increased sexual performance
It has been shown to increase stimulation and result in more spontaneous erections
It has been shown to has been shown to have significantly improved satisfaction, orgasm, and stamina
It is 100% safe
It has been shown to significantly improve erectile function
It has been shown to improve sexual performance significantly.
Who is the therapy's primary clientele?
Shockwave Therapy is a feasible treatment option for any male with erectile dysfunction (ED). The use of this treatment may be beneficial for men who do not respond to oral ED drugs, who are tired of the pills' adverse effects, or who prefer to reestablish the spontaneity of their erection without being limited to medication, pump, or other injection regimens. It is possible that shockwave therapy will be of significant use to you, no matter where you are on the ED rating scale (mild to severe). Many men still opt to undergo Shockwave Therapy even when they do not have erectile dysfunction. Simply put, they are getting treatment in order to improve their general sexual performance and endurance.
GAMEDAY GAINSWAVE® LOCATIONS
GAINSWave® has numerous advantages, and the following are some examples:
This website is a collection of freely accessible material and is not meant to establish a physician-patient relationship with just about any individual. This website's content is provided for reference purposes only. This website is not intended to substitute for the advice of your personal physician and is not meant to diagnose, treat, cure, and prevent any disease. Consult your own doctor or healthcare practitioner to determine the best course of action for you. All information is provided for general information purposes only and is not intended to replace medical advice or treatment for different health conditions. The material included above is summarized and is meant to foster broad consumer comprehension and awareness. The material is not intended to be exhaustive and should not be used in lieu of a visit, call, consultation, or advice from your physician or other health care practitioner. Only a licensed physician in your jurisdiction can assess whether you are eligible for and should pursue treatment.